Reading time:
2
minute
The purpose of this article is to present the functionality of electronic control units in the automotive field and to understand the interconnections of functional blocks.
What are the purposes of an ECU?
Electronic control units (ECUs) represent dedicated electronic systems which monitors and controls one or more electrical systems in a car. Thus, the purposes of an ECU are the following:
- takes orders from the user through inputs;
- controls the electrical systems for which he is responsible according to the orders received and his own operating program;
- monitors the electrical systems for which it is responsible and modifies their operation in order to maintain them in parameters;
- communicates via data lines with other ECUs to ensure the proper functioning of the whole assembly;
- provides information about its operation in real time to the user to allow him to make decisions.
Diagram of ECU function blocks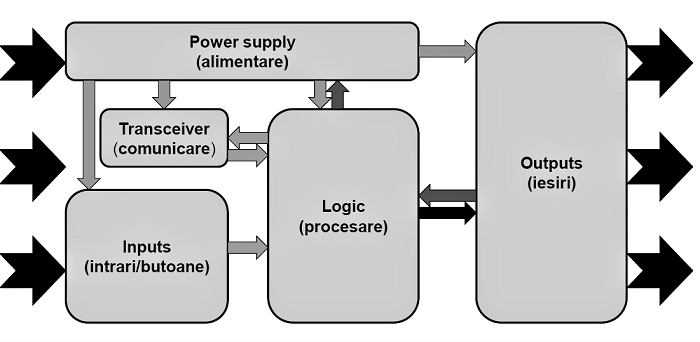 Functional block interconnections
Each functional block communicates with the other blocks through its own inputs and outputs.
Power supply it supplies energy through its outputs to all other blocks. At the same time it is monitored by μC, thus ensuring the operation of the other blocks in good condition.
The entrance block takes signals from the user and sends them to the logic block to be processed.
Communication block, "Transciever", works as a translator from the language used between the "LIN / CAN" car assemblies, in the language understood by μC.
Exit block, supplies the electrical systems for which the control unit is responsible according to the commands received from the logic block.
The logical block, monitors and controls all the other blocks interpreting the signals and ensuring the proper operation of the module.
Bibliography: