Reading time:
2
minute
What does the project present?
The presented project successively lights 2 consumers of maximum 20W due to the power transistors Q3 and Q4 (TIP41).
The circuit uses a stable configuration consisting of two 2 NPN transistors (T1, T2), two polarizing capacitors (C1, C2) and 4 resistors (R1, R2, R3, R4). This configuration is extended with two power transistors (T3 and T4), which successively light 2 consumers of maximum 20W.
These types of circuits they have no stable states, switches continuously between two unstable states, the transistors on the two branches passing one by one from the conduction state to the saturation state (tilting). The switching period in these states can be determined by the values ​​of the passive components (C and R) in the circuit.
The project requires a power supply from a direct current source 12V / 1-2A.
List of required components:
1 x Breadboard test board + connecting wires
1 x R1 = 10k
1 x R2 = 47k
1 x R3 = 47k
1 x R4 = 10k
1 x R5 = 470 Ohms
1 x R6 = 470 Ohms
1 x C1 = 10uF
1 x C2 = 10uF
1 x C3 = 100uF
1 x T1 = BC547
1 x T2 = BC547
1 x T3 = TYPE41
1 x T4 = TYPE41
2 x LEDs = 12V 5W
1 x Terminal contact
For a better understanding of the operation of the circuit and to make this assembly on the breadboard we will need electronic scheme presented below: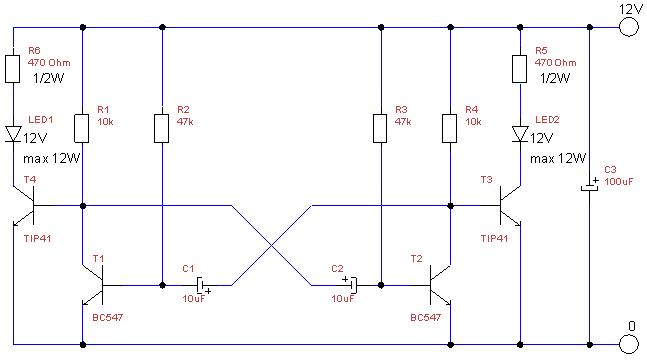 To carry out this project in your own laboratory, download the manual here and electronic schema in .dsn format (TinyCAD design) by here.
Also for this application are available the following videos in which they are presented similar officials:
The presentation picture of this course was taken from https://www.savemoneycutcarbon.com