Reading time:
4
minute
What does the project present?
This mounting complements the "10W Amplifier" 8109 set and is followed by the third mounting set "Audio Mixer" 8203. All these 3 vintage DIY electronic kits together form an audio frequency amplification chain, having absolutely all the elements necessary for a classic amplifier.
The preamplifier with tone corrector is made with 6 silicon transistors, distributed on several floors.
How does the assembly work?
First floor, made with T1 and T2, amplifies the signal provided by the dose, microphone or mixer and compensates the disc recording characteristic, in case of using a magnetic or ceramic dose.
Second floor is a passive network, consisting of RC elements, which makes the response curve of the preamplifier coincide with that of the ear, at low levels of listening. Thus, in the maximum position of the R13 resistance, the medium frequencies are strongly attenuated compared to the low and high frequencies. From R16 the maximum output voltage is regulated, and from P1, the signal level in the amplification chain.
Third floor, equipped with transistors T3 and T4, is a linear amplifier that compensates for the attenuation introduced by the physiological volume adjustment in the previous stage.
The top floor, the fourth, made with transistors T5 and T6, is a tone corrector, Baxandall type, which acts in the field of low and high frequencies.
Mounting output it is done by means of a repeater on the transmitter - made with the transistor T6 - in order to easily adapt the preamplifier with tone corrector to any power amplifier.
Details on the practical realization:
Particular attention must be paid to the implantation of electrolytic capacitors, with the addition in the indicated direction, as well as to transistors, whose terminals are identified following the drawing.
For establishing the optimal operating regime of transistors T1, T2, T3, T4, T5 and T6, the resistors marked on the diagram with "*" will be chosen by probing, so as to obtain the voltages indicated in table 1.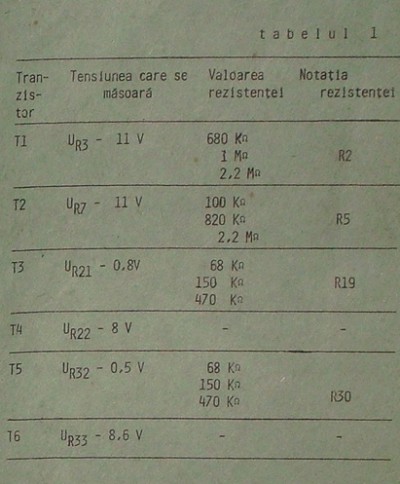 Also, the connections from the board to the potentiometers and to the plug will be made with shielded wire, if the length of the wire exceeds 5-7 cm.
List of required components (with recent equivalents):
T1 - transistor BC 413 (BC 109) or BC 550
T2, T3, T4, T5, T6 - transistors BC 173 (BC 109, BC 108, BC 107, BC 171) or BC 549
R4, R12 - resistors 150 Ohm / min. 0.25W
R1, R23, R27 - resistors 1 KOhm / min. 0.25W
R24, R26 - resistors 1.5 Kohm / min. 0.25W
R20 - resistor 1.8 KOhm / min. 0.25W
R36 - resistor 2 KOhm / min. 0.25W
R17 - resistor 2.2 KOhm / min. 0.25W
R22, R31, R33 - resistors 2.7 KOhm / min. 0.25W
R8 - resistor 3.9 KOhm / min. 0.25W
R10, R37 - resistors 4.7 KOhm / min. 0.25W or 2.2K / min. 0.25W
R11, R15, R25 - resistors 10 KOhm / min. 0.25W
R7 - resistor 12 KOhm / min. 0.25W
R3 - resistor 33 KOhm / min. 0.25W
R6 - resistor 39 KOhm / min. 0.25W
R9, R29, R35 - resistors 56 KOhm / min. 0.25W
R2 - resistor 680 KOhm or 1 MOhm or 2.2 MOhm / min. 0.25W
R5 - resistor 100 KOhm or 820 KOhm or 470 KOhm / min. 0.25W
R19, ​​R30 - resistor 68 KOhm or 150 KOhm or 470 KOhm / min. 0.25W
R34 - resistor 1 MOhm / min. 0.25W
R14 - resistor - 82 KOhm / min. 0.25W
R18, R28 - resistors 120 KOhm / min. 0.25W
R21, R32 - resistors 220 Ohm / min. 0.25W
C2 - ceramic capacitor 10 pF / min. 50V
C18 - ceramic capacitor 3.3 nF / min. 50V
C6 - ceramic capacitor 22 nF / min. 50V
C12 - ceramic capacitor - 47 nF / min. 50V
C11 - styroflex capacitor - 220 pF / min. 50V (or ceramic)
C9 - styroflex capacitor - 680 pF / min. 50V (or ceramic)
C16, C17 - polyester capacitors 0.68 uF / min. 50V
C10 - polyester capacitor 1 uF / min. 50V or 0.68 uF / min. 50V
C1, C5, C19 - electrolytic capacitors 4.7 uF / 40V or 6.8 uF / min. 40V
C3, C4, C8, C13, C14, C15, C20 - electrolytic capacitors 22 uF / 25V
C7 - ceramic capacitor 68 nF / min. 50V
C21 - electrolytic capacitor 100 uF / 6.3 V or 150V / 10V
R13 - semi-adjustable resistor - 50 KOhm / 0.5W
R16 - semi-adjustable resistor - 10 KOhm / 0.5W
P2, P3 - linear potentiometers - 10 KOhm / 0.5W (can also be rotary)
P1 - logarithmic potentiometer - 10 KOhm / 0.5W
Input plug with 5 contacts
buttons
Printed wiring or breadboard test board
Tin or connecting threads
Download the original IPRS leaflet Baneasa 8201
For a better understanding of the operation of the circuit we will also need electronic scheme presented below:
In order to carry out this project in our own laboratory, we will also need printed wiring PCB layout From lower: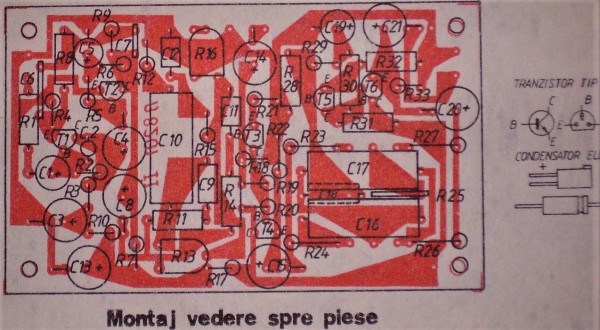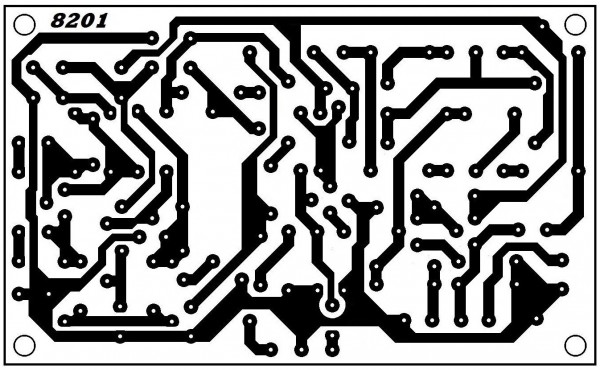 Many of you are probably wondering how this DIY electronic kit was packaged or distributed. Below I have attached some pictures with packaged product (new) and the contents of the envelope. Thank you Mr. Marius Balauta for providing pictures.