Reading time:
2
minute
The purpose of the DIY electronic circuit
The circuit shown can be used in households and facilitates on / off switching of the light bulb in the room, for example, using the remote control of the TV, DVD or any device controlled by an infrared remote control. Thus, the TV remote control becomes an accessory with which you can control, from a distance (maximum 10m), the lighting in the room.
How does the electronic scheme work?
Receiver operating frequency TSOP1738 is 38kHz. The signal received from the remote control is captured by IC1, amplified by T1 and applied on the clock pin (14) of the counter 4017.
As the output Q2 of the counter is connected to pin 15 (Reset), a press on a button of the remote control passes the output "CO" in logic 1 (relay off), and the next press, the count advances, Q1 goes to 1 and QO to 0 and relay REL1 is activated.
Electronic scheme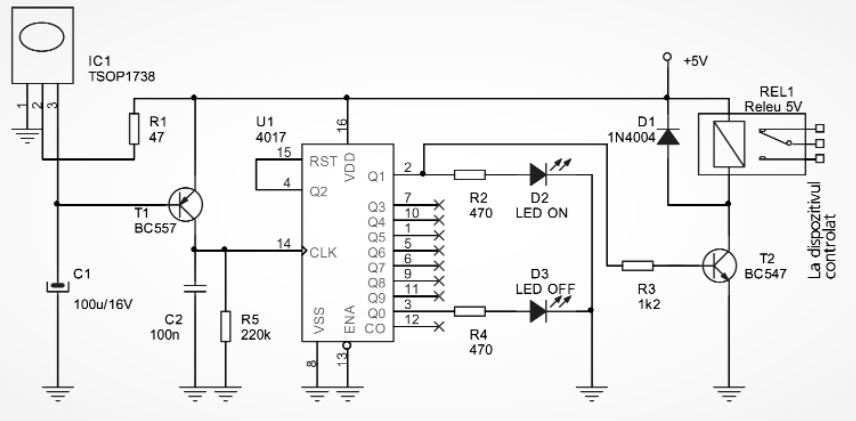 A new press causes Q2 to switch to 1, reset the counter and, by default, activate Q0, ie relay off. C1 and C2 ensure error - free switching of the relay, rectangular pulses, modulated, by 38kHz, from the remote control, being filtered by the capacitors.
The assembly will be powered by 5Vdc. The relay must be operated with 5V. Its working contact, normally open, can be connected in parallel to the contacts of the light switch in the room.
List of required components (with equivalents)
R1 = 47 Ohms;
R2, R4 = 470 Ohms;
R3 = 1.2k;
R5 = 220k;
C1 = 100 uF / 16V;
C2 = 100nF;
D1 = 1N4004 (or 1N4007);
1 x 5V Relay;
D2 (LED ON) = green;
D3 (LED OFF) = red;
T1 = BC557;
U1 = CD4017;
IC1 = TSOP1738 (or SM0038, TSOP31238);
2 x terminal contacts (for power supply and output).
Bibliography:
Conex Club Magazine - no.5 - 2006
Author of the electronic scheme: S. Mohan / Electronics for you
https://circuits-diy.com/